Z/Web
The personal weblog of Marc Zeedar.
About Marc
I'm Marc Zeedar, writer and dreamer. I'm interested in writing, technology, programming, soccer, philosophy, engineering -- pretty much anything creative.
Why is this blog all movies and books?
In college I was given an assignment to write a mini-biography. Rather than do the traditional, I wrote mine as a chronological list of the influential books in my life, explaining what they meant to me (both at the time and later). This turned out even better than I expected -- the saying "you are what you eat" really ought to be "you are what you read." So I decided to do that with my blog: it's a journal of what I'm reading, seeing, thinking, with the occasional unusual event thrown in. Feel free to add comments!
Books
:
Marc's New Novel:

Marc's Cookbook: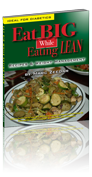 Links
Personal
:
Projects
:
(Click to show/hide)
Photos
:
(Click to show/hide)
Websites
:
(Click to show/hide)
Recent Comments
Topics
(Click to show/hide)
Archives
(Click to show/hide)
Subscribe to [RSS Feed]
---
Site copyright 1999-2011 by . All Rights Reserved.